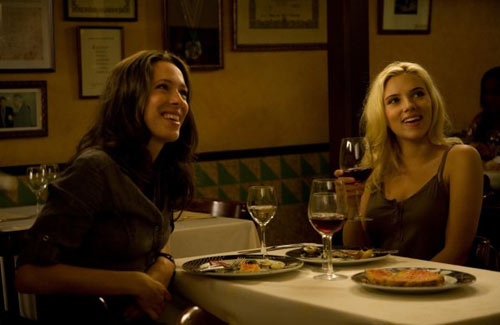 Vicky is serious and engaged. Cristina is carefree and impulsive. Barcelona is beautiful and very, very sexy. Actually, that's also true of Rebecca Hall and Scarlett Johansson, who play Vicky and Cristina in this golden-hued romantic drama. Oh, and Javier Bardem, too, who plays Juan Antonio (the name itself is sexy). And we can't forget Penelope Cruz, as the overly neurotic Maria Elena, who is, despite her character's troubles (or maybe because of), the sexiest one of all. That's pretty much what you need to know about Woody Allen's new movie Vicky Cristina Barcelona. To be honest, there's not much more than that.
As the movie opens, Vicky and Cristina have arrived in Barcelona for a summer vacation. A droll but largely unnecessary voiceover brings us up to date, and soon the two have met Juan Antonio, an exceedingly suave Spanish painter who forthrightly invites them on a weekend getaway which will probably involve a threesome. 99.9% of all men would find themselves slapped in such a situation. Javier Bardem does not. What follows is a love triangle that later becomes a trapezoid when Maria Elena, Juan Antonio's ex-wife, enters the picture. Word might have reached you that Johansson and Cruz engage in some kissing, but voyeurs (and aren't we all, in a dark theater) should remember that the movie is rated PG-13.
To Allen's credit, this rather preposterous setup comes off almost naturally. I might have recalled this hilarious Onion article on a couple occasions, but the actors are so strong and Barcelona so gorgeous that I found myself swept along for the ride. It helps immensely that, unlike Woody's films of the last 40 years, the male protagonist isn't anything like Woody himself, for no one would ever confuse Allen and Bardem. Instead, Bardem plays the sophisticated European as every woman's fantasy (women wishing to argue for Allen's fantasy value can send their comments to our Antarctica office). He's romantic and assertive, strong but sensitive, creative and handsome. We understand why a one-night stand with Juan Antonio might have Vicky reconsidering not only her wedding but her entire future. Her early declaration "I'm not free, I'm committed" feels more and more like a noose as the movie continues.
That theme of commitment vs. romance plays out like a battle, especially when a friend named Judy (Patricia Clarkson) encourages Vicky to follow her fantasy and screw the consequences. But even the plot threads of suicide and infidelity can't compete with the filtered summer light that Allen and cinematographer Javier Aguirresarobe (Talk to Her) conjure, with everything subsumed in a warm, hazy glow.
Yet, the film ends strangely like a sitcom, with the finale bringing us back to the very spot from where we began and with each character largely the same. A summer vacation may seem like an escape from the real world, but it's hard to imagine that Barcelona and Juan Antonio wouldn't leave more of a mark.