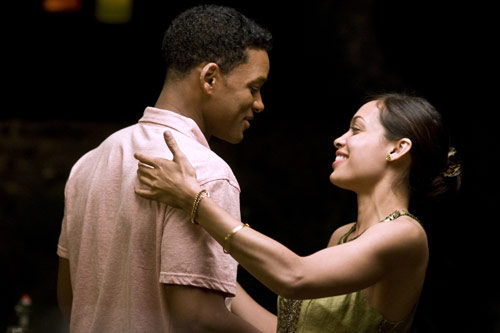 Merrick Morton/Columbia Pictures
Let me get this out of the way. Seven Pounds is retarded. If this thing didn't have the star power of Will Smith and Rosario Dawson, Lifetime Network execs would reject it. On an online forum I frequent, someone was curious and asked what the movie was about. My friend Garth described the plotline, and people genuinely thought he was pulling their leg. So when I spoil the plot for you near the end of this review, trust me, you'll thank me for it.
But rather than focus on the ridiculous contrivances that occur in this film (apparently, stalking people is ok if you're as handsome as Will Smith) or the irritating way the movie both withholds information (so as to draw out the interminable narrative) and yet foreshadows every single plot point (wait! what's he doing with that jellyfish??), I thought I'd reflect on the nature of sacrifice in movies.
The theme of someone sacrificing herself for the good of the group is as old as literature itself. It is the hallmark of almost every major religion and a primary motif in too many stories to count. Despite its familiarity, it still packs a wallop, in part because we want to believe that people are willing to do this and because it's universally admirable when someone does, even if we don't agree with his motivations.
For Hollywood, the sacrificial hero is the prestigious flip side of the summer blockbuster. In action and comic book movies, the hero is willing to sacrifice himself for the good of the world. But he's so awesome (and sequels are so lucrative) that the movie contrives to have him survive his ordeal. But at Oscar time, the sacrificial hero must follow through to the bitter but poignant end. The movie seems the more realistic for it, and we have the powerful emotion of pathos to send us out of the theater inspired.