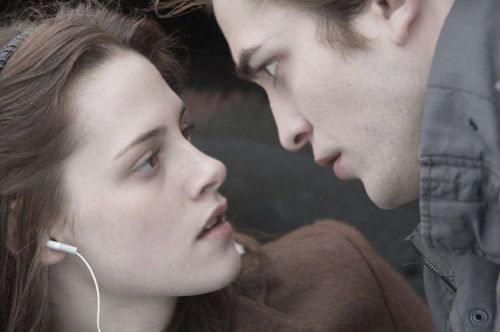 Bella is the new girl in town, and Twilight waits a full hour before revealing to her what the rest of us knew from the moment he strode pale-faced into the school cafeteria: the quiet, glowering boy in her grade is a vampire. It's the skin, it's the brooding look, it's the magnificently gelled hair, it's the slo-mo entrance. Dead giveaways. He doesn't talk to anybody, ever, but, alas, he locks into Bella's gaze, and she smolders for the rest of the film, usually in tight shots that alternate with close-ups of his burning unrest.
Director Catherine Hardwicke (Thirteen, Lords of Dogtown) sees the humor in the portrayal, and her whiffs of wit carry a long, slow setup. When the vampire, Edward, is seated in biology class -- still brooding, ever brooding -- Hardwicke positions a stuffed bird on the shelf behind him, spreading its wings so they seem to be attached to the scruff of his neck. In Magnolia, P.T. Anderson used a caduceus painted on a back wall to make the sad boy genius in the foreground even more angelic, even more Falconetti-esque, and in Twilight Hardwicke evokes genuine, giddy laughter with the shots of first one wing, then two, the pair growing in prominence as Edward senses Bella's approach through the bio-science doorway.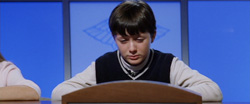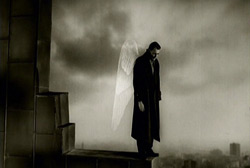 But Edward is not, in fact, happy to see her. He holds his head low like the reluctant angel in Wim Wenders' Wings of Desire. This blue-lipped, aggressively plucked boy is not a reluctant angel, of course, but a reluctant vampire smitten by the girl who should be his prey.
Therein lies his conflict, and therein lies hers, and from the two a familiar story emerges: love at first sight needs no justification; opposites attract; beautiful people attract; dangerous boys attract bold girls who, in time, will benefit from the protection provided by their speed, strength, mystique, and wisdom (or, here, telepathy). Protection from what? It matters not; girls need protecting. From reckless drivers. Rival vampires. What have you.
But -- here's the rub -- if the boy loses control of himself in the heat of passion he could destroy her. She has an intoxicating scent. She's filled with blood-red deliciousness. Perhaps he would not retract his teeth were they ever to take hold. It's the story of a thousand romances, of two thousand movie teens who struggle against chastity, and it's a story not altogether different from that of poor Peter Parker who cannot declare his love for whatshername because certain ne'er-do-wells would then use her as Spider-Man bait. In short, nothing attracts boys like somebody else's letter jacket. But in this case, the ne'er-do-well is Edward himself. Stuff that duality into your Spidey tights, Peter.