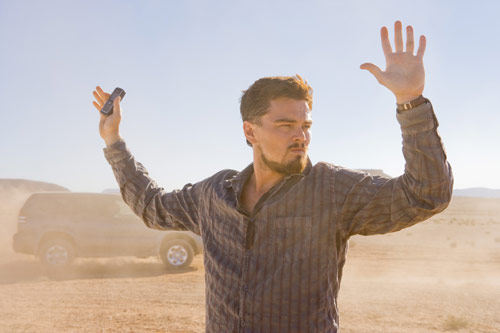 The first half of Body of Lies is a crackerjack spy thriller. Leonardo DiCaprio is Roger Ferris, an up-and-coming operative who can actually speak Arabic. Russell Crowe is his handler back at Langley, driven to track down a terrorist (nefarious, obviously). The two Americans spend a great deal of time talking to each other on the phone, as Ferris criss-crosses the Middle East--starting first in Iraq and then Jordan and Dubai.
As you might imagine from the title, conspiracies and deception are intimated from the very beginning. Is that intelligence chief in Amman all he appears? What about Ferris's new assistant? Is he on the up and up? And should Ferris really be falling in love with a Jordanian woman who lives in a Palestinian refugee camp? Of course, those of us who've seen these kinds of movies before will suspect Russell Crowe from the beginning.
The film, though, is more in the Tony Scott blowing-stuff-up mode than John le Carre's cerebral approach. But Ridley Scott directs set pieces more effectively than his brother, incorporating high-tech surveillance footage and old-fashioned explosions into taut, urgent chases and confrontations that aren't marred by ridiculously convoluted editing. This being a modern-day spy story, the Internet is also a primary location, though Hollywood still hasn't learned how to make those kinds of encounters exciting ("now send emails to all his associates!!").
The movie raises some interesting political issues early on, but those are quickly ignored for standard-issue espionage. Still, Scott and his editor Pietro Scalia move things along, offering just enough information to keep us guessing. That is, until the film's final act when the guessing turns into head scratching.
The problem is that the film does such a good job of establishing Ferris's motives early on that we don't believe the story when his motives suddenly change. I spent far too much of the final 45 minutes asking, "Why is he doing that?," and not coming up with a satisfactory answer. Indeed, a couple decisions are absolutely inane, but the movie hopes we won't notice. This all culminates with a climactic scene that is both gratuitous and unconvincing. It's all relatively watchable, but I'd be lying if I said I wasn't a bit disappointed.