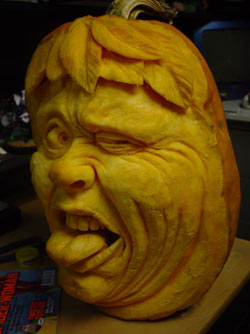 Halloween is fast approaching, so if you're planning to decorate your stoop or dress up that bale of hay that's sitting on your front lawn, you're going to need some pumpkins, first off. Second, you're going to want to carve faces into one or more of them, just like the one shown here. It's the traditional way. All your neighbors are doing it. But if you need instructions, check this site, which has more pictures of sample jack-o-lanterns for you to copy.
• • •
Too much work? The other tradition is turning off the porch light, reclining with an oversized bag of individually wrapped, bite sized candy bars, and watching a scary movie. For suggested rentals, we're turning to the gray lady's Dave Kehr, bloody historian:
Psycho, of course, was the great game-changer of the horror genre. Hitchcock's masterpiece did away with any residual, romantic notions of the supernatural. True horror was to be found in the malformations of the human mind, and in the graphic violence practiced upon human bodies. By the time The Texas Chainsaw Massacre appeared in 1974, there was no turning back: the old dark house was now populated by psychopaths rather than spirits, and the ruling metaphor was the butcher shop.