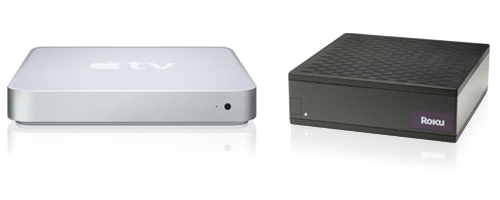 People used to tell me when to watch TV. They'd print up complicated charts for me to study so that I could always be in the favor of their dictates. Thursday night at 8:00pm. Be there. We're not waiting for you, so finish dinner quickly or eat it on the couch.
I don't travel with that kind any more. For the last year I've been testing a couple of solutions that break the schedule's stranglehold and give me control over what I watch and when I watch it. And they've given me a taste of what I assume will one day be the norm: I think of a movie or TV show I want to watch, I press a button, and a few seconds later I'm watching it on a plasma TV. And I watch it without commercials.
That's the future, but it's closer than you may think. The biggest shortfall at the moment is that not everything I think of is available -- not by a long shot -- but so much of it is that I'm not sure I could ever consume all that's available to me through this pipe. We've passed some kind of threshold.