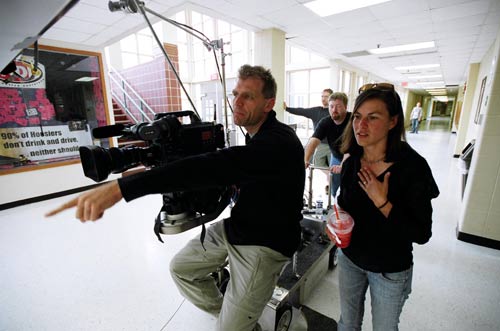 James Rexroad/Paramount Vantage
Nanette Burstein was nominated for an Oscar for her debut film On The Ropes and received critical acclaim for The Kid Stays in the Picture, but her latest documentary shifts from the highly specific story of a well-known movie producer to the more universal tale of teenagers. Indeed, American Teen feels almost archetypal, as Burstein follows four classic American types--the popular girl, the band geek, the quirky outsider, and the jock--through the ups and downs of their senior years. The film captures the teens as they fall in and out of love, wrestle with the demands of friends and parents, and struggle with where (or whether) to go to college.
We sat down with Burstein and talked about reality TV, crafting a story, and whether teenagers really are that self-absorbed.
On the Whys and Hows of Filming Teenagers
J. Robert Parks: You've done documentaries on boxers, on music, on Robert Evans. Why teenagers in small-town Indiana?
Nanette Burstein: I wanted to do a film on teenagers. One, I was influenced by this documentary called Seventeen, which was actually shot in Indiana. Also, my high school experience was such an important time in my life. It was very challenging, but also very formative in defining who I ultimately became. So I wanted to do a movie that was personally very important to me.
JRP: One of the things I find interesting about the film is that these teenagers almost seem like they're out of central casting. You've got the band geek, you've got the queen bee, you've got the jock and so forth and so on. I'm curious how you chose the teenagers you did. Were you looking for those kinds of things, or did that storyline develop as it went on?
NB: I was definitely looking for kids from different social cliques and different social classes. But they didn't have to be as archetypal as they were. I'm glad that they are, because I think they defy the stereotypes and are surprising and unexpected, and that's what I was looking for. You think you know who they are, just like their peers think "oh this is the theater geek." But in fact they're very different people, and they're complicated, and they're trying to figure out who they are.