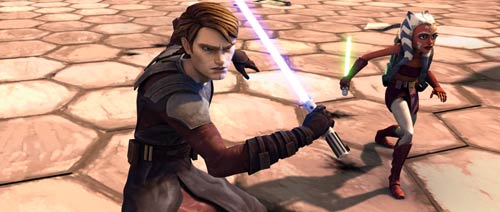 Lucasfilm Ltd./Warner Bros. Pictures
Mark Hamill, the star of the first three Star Wars films, once remarked, "I have a sneaking suspicion that if there were a way to make movies without actors, George Lucas would do it." Film critics who sat through The Phantom Menace and Attack of the Clones had a similar feeling. And now with the further development of animation technologies, Lucas has reached that point.
He isn't directing the new computer-animated flick Star Wars: The Clone Wars, but his DNA is all over it. The story about Anakin Skywalker and Obi-Wan Kenobi trying to save the son of Jabba the Hutt is just a skeleton for some cool battles (at least my nephew thought so) and overly intricate political intrigue.
The movie is a set-up for the TV show set to debut this fall on Cartoon Network. The animation is intentionally retro, in the movie, at least. None of the beautiful backgrounds of Kung Fu Panda, little of the sleek design of the Pixar films. Instead, we have the somewhat geometric characters that are common in video games, which fits since most of the movie feels like a long video game, with various battles involving ships, droids, and clones. And of course Jedis with lightsabers.
The most interesting character is also the one that feels the most calculated. Ahsoka is a young Jedi-in-training, or Padawan for the fanboys out there. So she functions as both the spunky sidekick and the object of interest for the pre-teen crowd who are the most likely viewers of the TV show. And yes, she's a she, in what I suspect is a vain attempt to attract young girls to the franchise.
Fans of the franchise won't need any prodding to check out Lucas's new direction, though 'new' isn't quite the right word. The Clone Wars storyline started out as a video game in 2002, became a TV show in 2003, and morphed into a series of graphic novels. But re-baking old material is old hat for Lucas. Only the technology changes.