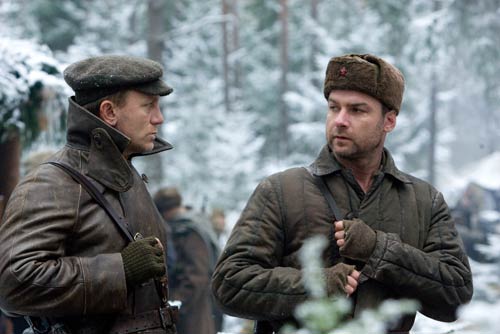 Karen Ballard/Paramount Vantage
Tis the season for ... World War II movies. It's easy to see why. As we ramp up towards Oscar season and take stock of our world, World War II allows for big set pieces, period costumes, epic conflicts, and unambiguous, unironic good guys and bad guys. All things that make film critics and arthouse audiences swoon and the Academy weak in the knees.
I, on the other hand, have grown weary of WWII and especially Holocaust films. I'm tired of the faux ethical dilemmas that movies like The Counterfeiters raise, the moral uplift those movies supposedly offer. Audiences leave the theater thinking they would've risen to those same challenges, blithely ignoring the fact most Germans failed miserably and we certainly aren't rising to the challenges of Darfur and the Congo today. So it was certainly more from a sense of duty than any kind of excitement that I sat down to watch Defiance, The Reader, and Valkyrie. Surprisingly, I thoroughly enjoyed two.
Defiance is the most conventional of the three but also the best. A stirring story of a group of Jews in Byelorussia who fled into the deep forest in fall 1941 and made a camp for themselves, it shows how they survived through both perseverance and fighting back. These are the Jews who kick ass. It's a straightforward narrative, though the movie doesn't skirt away from the theme of revenge and whether it might be necessary and even right to kill. The movie also integrates familiar tropes in inspiring ways: the joys of love, no matter the circumstances; sibling rivalry and devotion; hope in the midst of evil. And I particularly like the way Moses and the Exodus are invoked; it's subtle without being opaque. The acting from Daniel Craig, Liev Schreiber, and Jamie Bell is strong, with Schreiber's manly fighter the most interesting of the three. And the character actors provide a well-rounded sense of community. The movie's only weakness is a doozy--a battle when Schreiber suddenly comes out of nowhere like Han Solo returning in the Millennium Falcon. Cliched and corny. Fortunately, little of the rest of the film is like that.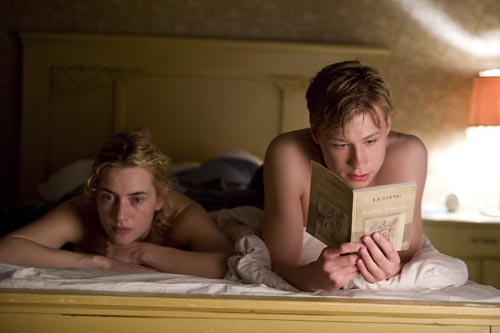 Melinda Sue Gordon/The Weinstein Co.
The Reader, another favorite of mine, skips ahead 15 years after the war, when Germany has finally recovered and is doing its best to move on from the horrible memories of history. Part of how it accomplished this act of forgetting was to continue the show trials of various figures who were prominent in Nazi atrocities. In this story, that's Kate Winslet's character, who was a guard at Auschwitz, is on trial. But because we sympathize with her in the film's first act, it's much harder just to dismiss her as "someone different" when the trial takes over the second act. And as much as the judges and spectators try to treat her as someone beyond the pale, the movie confronts us with the opposite reality. At one point she defiantly pleads, "What would you have done?" And I think this is one of the most important questions Holocaust narratives can ask. Rather than offer us ridiculous superficialities which flatter our sense of self-worth—I would've resisted, I would've stood up to those Nazi thugs—The Reader confronts us with the fact that the vast majority of people didn't resist. They went along and even embraced the atrocities. And those that did resist were much more likely motivated by desperation, as in Defiance.
I find Defiance and The Reader particularly nice ways of thinking about World War II. The opening of Defiance, more than any film I've seen in a while, conveys the terror of what the Nazis did, the brutal efficiency of it, the horror of what was left for those few who survived. Director and screenwriter Edward Zwick (along with co-writer Clayton Frohman) don't stoop to simply shocking us, which can so easily be ignored. But by being restrained, they confront us anew with what occurred. "How could we allow it to happen?" is the natural response.
This makes Valkyrie seem even more ridiculous, as if these Nazi soldiers in 1944 suddenly found out about the bad things Hitler was doing. "We had no idea." Bullshit. How could they not have known? They just realized the war wasn't going as well, and maybe it was time to cut Hitler loose. That more realistic narrative doesn't fit if we're supposed to see Tom Cruise as the uber-hero. Unfortunately, that's all Valkyrie is, Tom Cruise as yet another Top Gun fighter pilot come to save the world. Indeed, he seems almost irritated that he has to share the glory with anyone else. There's an utterly fatuous moment early in Valkyrie when Kenneth Branagh's character actually compares Cruise to one of the ten people God needed to save Sodom and Gomorrah. But maybe in this case, God will only need one, Branagh has the gall to declare.
The nitty gritty of leading is so much more realistic in Defiance, so much more grounded in reality. Daniel Craig's character has to, at times, utterly assert his leadership, but he can't do it without several other people, including his two younger brothers, a couple women, and interesting minor characters. The sense of community that Defiance conveys undercuts Hollywood's typical hero worship, of which Valkyrie is example #1. Furthermore, Craig's character isn't a superhero. He's just doing what has to be done. And while he was able to save hundreds (1200 lived in the community by the end of the war), he's hardly some titanic figure saving the whole world. The horror of the Holocaust precludes any such nonsense.
Furthermore, equally relevant questions revolve around what happens after the horror. What about revenge? There are a couple difficult scenes in Defiance that don't let us get away with simple moralizing but remind us that these issues are incredibly difficult. Even decades later, what do younger generations do with this history, as we see in The Reader? How do they look at their elders, those who may have stood on the sidelines and did nothing? And in the midst of war, what about bravery and heroism? Incredibly worthwhile traits that are worth celebrating, but let's remember the cost of those, too. And is it just as brave to pull a trigger as it is to lead a people through a sea on dry ground?