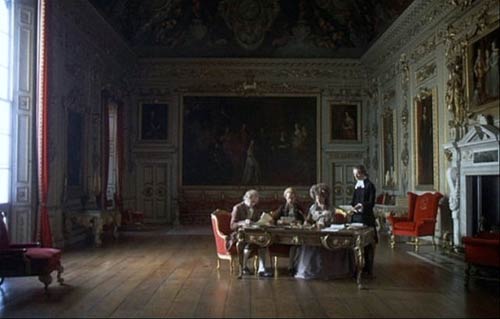 Last month, the British film magazine
Sight & Sound
presented
an entertaining feature
on dream double bills, asking various writers to describe a provocative or fun hypothetical pairing of movies. It goes without saying that this inspired bloggers galore. I've never been particularly good at that kind of parlor game, though it's always fun to play. Last week, however, I stumbled by chance upon a particularly interesting double feature. I had the opportunity to experience Stanley Kubrick's
Barry Lyndon
for the first time and then, a few hours later, followed that up by seeing the new
Brideshead Revisited
feature.
Things They Have in Common, of Which There Are a Surprising Number
Both are set in the past and use the past as a subject. Although their settings are 150 years apart, they resemble each other more than Brideshead resembles our own time, especially in how class completely dominates interpersonal relations.
Both take relish in the spectacularly opulent use of castles and estates to signify wealth and impress the viewer.
Both are costume dramas. The costumes for Barry Lyndon are especially fancy, but great care has obviously been used in creating the post-Edwardian fashion of Brideshead.
Both use a voiceover. In Barry Lyndon, it's a droll, sometimes ironic omniscient narrator, while in Brideshead Revisited, it's the main character, Charles Ryder, looking back on his life.
Both are about strivers, men hoping to raise their class position. Both succeed by marrying much richer women. In neither case does it end well.
Both are about painting. Let's start there.
Painting as an Excuse and as a Template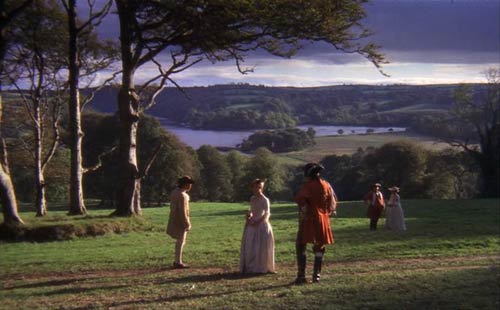 Charles Ryder is theoretically a painter. I say 'theoretically' because we almost never see him paint or even think of painting. In fact, he seems to be the least creative person in the entire movie. His occupation is merely a plot device (it's how he meets his future wife and enters high society) and a marker of quality. Ah, he's a painter, so he must be cultured and worthy of respect, even if he is only middle class. It also allows director Julian Jarrold to include a particularly fatuous speech that Ryder offers on why painting is superior to the simple "copies" of photography.
Unfortunately, a counter-example can be seen in the American release of Eyes Wide Shut, butchered after Kubrick's death. To obscure the explicit sex scenes, the producers (with the encouragement of Tom Cruise) inserted ghostly black figures that completely ruin the visual form of certain sequences. — JRP
Though there are no painters in Barry Lyndon, the entire movie is obsessed with the form. Stanley Kubrick's compositions have always been brilliant and fastidious, but Barry Lyndon is even more exact. Kubrick admittedly studied 18th-century paintings in preparation for shooting, and numerous compositions look like they could hang on the walls of the Louvre. Kubrick is particularly adept at including anonymous characters whose function is merely to balance out the composition.
Fortunately in Barry Lyndon, Kubrick's perfect eye matches with cinematographer John Alcott's amazing use of natural light. The outdoor landscape shots often use magic hour lighting, while the exquisite interior sequences use candlelight or flood-lit windows, which combine with the compositions to foster a sense that you're looking at a painting. Thematically, this creates a feeling of being stuck in time, of tranquility and also immobility. While the protagonist may attempt to leap forward in status, the mise en scene is always undercutting his progress.
To Zoom or Not to Zoom
I saw these two films a couple days after reading my partner in crime's provocative and enormously stimulating Zoom article, in which he actually mentions Barry Lyndon's use of the zoom lens. Primed, I couldn't help but notice Kubrick's extensive use of the technique. As Scorsese notes, it flattens out the image, making it seem like an 18th century painting, obviously an intentional complement to other aspects of the film.
It's interesting that Kubrick and Alcott rely much more on zooming out than zooming in. Often a shot will begin by focusing on a particular person or pair of people. Then after we've watched that for a few moments (or longer), the shot zooms out--sometimes quickly, sometimes slowly--and we're able to see the larger context. What seems like the beginning of a war is revealed to be merely a military parade designed to entertain the upper crust. Barry Lyndon staring into space off a bridge becomes even more lonely when the camera zooms back to highlight his isolation.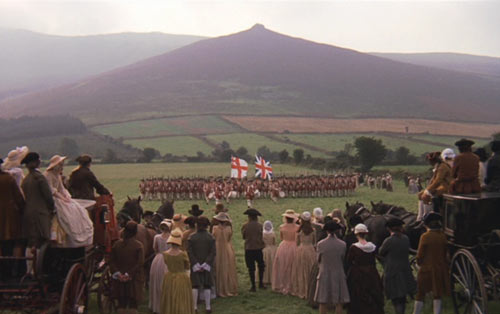 In unfortunate contrast, Brideshead Revisited's most noticeable use of the zoom is also the most cliched. During the aforementioned speech that Ryder gives on painting and photography, the shot starts off at medium length and then slowly zooms in on actor Matthew Goode's face. This embarrassingly common technique is usually used to cue the audience that they should pay attention, that this is a critical moment in the story, and so it is here. By ending with a close-up on our protagonist's face, we're supposed to empathize with him and see him as especially wise. It is all too ironic that a speech on how painting is superior to the copies of photography should use a widely-copied and banal cinematographic technique.
Barry Lyndon's most interesting zoom-in is of a different order altogether. Robert Davis highlights the fact that "the zoom has no counterpart in the natural world," and he's mostly right. But Kubrick offers a stunning exception. Early in the movie's second part, Barry Lyndon's wife catches him with another woman. At first, she (and we, through a point-of-view shot) sees him off in the distance across a pond. Then as she recognizes who he is and whom he's with, the camera lens quickly and aggressively zooms in, mimicking our ability to focus on something a far ways off that catches our attention. The rapid nature of the zoom not only focuses our gaze (akin to D.W. Griffith's irises that Rob mentions), it more importantly embodies the shock and horror that Lady Lyndon experiences. The empathy created by the point-of-view shot is intensified by the rapid zoom.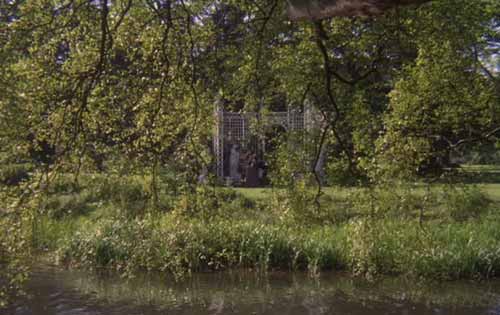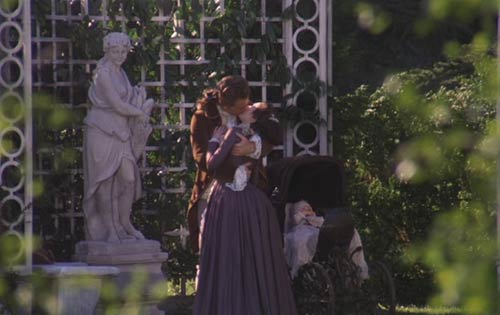 In Focus and Out and Both
Brideshead Revisited has its own share of beauty, though most of that comes from its use of Castle Howard rather than any creative direction or cinematography. What's particularly striking about the latter is cinematographer Jess Hall's almost total reliance on shallow focus photography. This is combined with a preponderance of close-ups and medium close-ups, so that much of the film revolves around people speaking and reacting to those conversations.
This is not unusual in contemporary movies, but it stands in stark contrast to Kubrick's wide-ranging style. To be fair, Barry Lyndon also enjoys cutaway shots to breathtaking views of Castle Howard (maybe a few too many). But Kubrick mixes up his approach, often cutting in the same sequence from a long shot that encapsulates the entire scene to medium shots positioning two people in opposition and then to close-ups. The relative rarity of the close-ups gives them a much greater power when Kubrick utilizes them, and his longer shots show more clearly the interpersonal relationships of the characters. What he rarely uses is shallow focus. Even when he draws in tight on someone, we can usually see what's behind that character: the setting, another person, a painting. In comparison, Brideshead looks unfortunately flabby in relying so much on the lazy close-up/shallow-focus pairing.
The Order is Important in These Things
Watching Brideshead Revisited after Barry Lyndon is not terribly fair to the former. Would I have noticed so many of its flaws if I hadn't been so stimulated to the act of seeing by Barry Lyndon? Probably not. One of the glories of watching Kubrick (and any great director) is that your eye becomes more perceptive, your mind more sensitive to the possibilities of cinema. Your whole being is more engaged. Follow that up by watching something typical, and you can't help but be let down.
There were other deficiencies of Brideshead that seem particularly painful in light of Barry Lyndon. It is safe to say that Kubrick never even thought of having a "developing friendship" montage, much less used one. Whereas Brideshead has an unfortunate sequence in which the growing relationship of two young men is shown with a series of shots involving laughing, wine drinking, and shenanigans. When Kubrick utilizes quick cuts, it's often to startle the audience. A quiet moment of Barry Lyndon with his baby suddenly cuts to Barry in the midst of an orgy and then just as quickly to his wife with her older son and the baby. In a brief trio of shots, Kubrick establishes the relationship between Lyndon and his family. It's audacious and pointed, two adjectives I wouldn't think of using to describe Brideshead.
Still, not everything in Brideshead Revisited fails to measure up. It has the brilliant Emma Thompson as Lady Marchmain. Her delivery of the line "Don't be vulgar. Vulgar is not the same as funny" is so withering that I burst out laughing and have been quoting it to friends ever since. Some people may be fans of Ryan O'Neal's empty performance in Barry Lyndon, but I'm not one of them. And Brideshead moves its story along with the pace and dignity we expect of an arthouse costume drama. Those enamored of such things won't be disappointed, unless they make the mistake of seeing Barry Lyndon first.