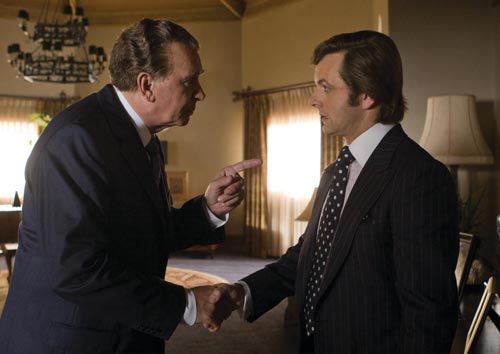 Ralph Nelson/Universal Studios
Frost/Nixon is one of those Oscar-bait movies that gets the Academy all worked up. Throw in two titanic actors (Frank Langella and Michael Sheen in this case), a hot-button issue, prestigious art direction, and you've got a film destined to make certain Top 10 lists. Not mine, though. Oh, wait. This one will make my Top 10 list.
But why does this piece of Oscar bait thrill me while Doubt leaves me in a funk? It'd be easy to say that the subject matter has something to do with it. I've been a political junkie since I was in elementary school, and the paper I remember most from junior high was on Watergate. So a movie about President Nixon's interviews with the British talk show host David Frost has an innate appeal. Even better, re-living the moment when the Dark Lord of the Sith received his comeuppance is most satisfying. And the movie is smart enough to subtly link Nixon's abuse of power with our current president's comedy of errors. Maybe it's just me, but the Nixon quote "I'm saying that when the President does it, that means it's not illegal" has real contemporary bite.
That doesn't quite explain my differing opinions, though. For the subject matter of Doubt--the struggle with religious uncertainty--would usually be right up my alley, as well. So what's different about this prestige pic?